NOHrD SprintBok Curved Manual Treadmill - Club

Shown in various solid wood finishes below.
A "Concours Lépine" design award winner, the classic Sprintbok presents itself with impressive new features. The Sprintbok by NOHrD stands out from the conventional treadmill aesthetic through a slender, curved form and elegant wood frame.
The curved manual treadmill offers users all advantages of a self-determined running workout: the belt, consisting of flexible wooden slats and precision ball bearing engineering is exclusively powered by the user's legs. The Sprintbok by NOHrD knows no speed limits nor does it require settings. Infinitely variable from a comfortable walk to an all-out sprint, runners can fully determine their pace according to their personal running capacity.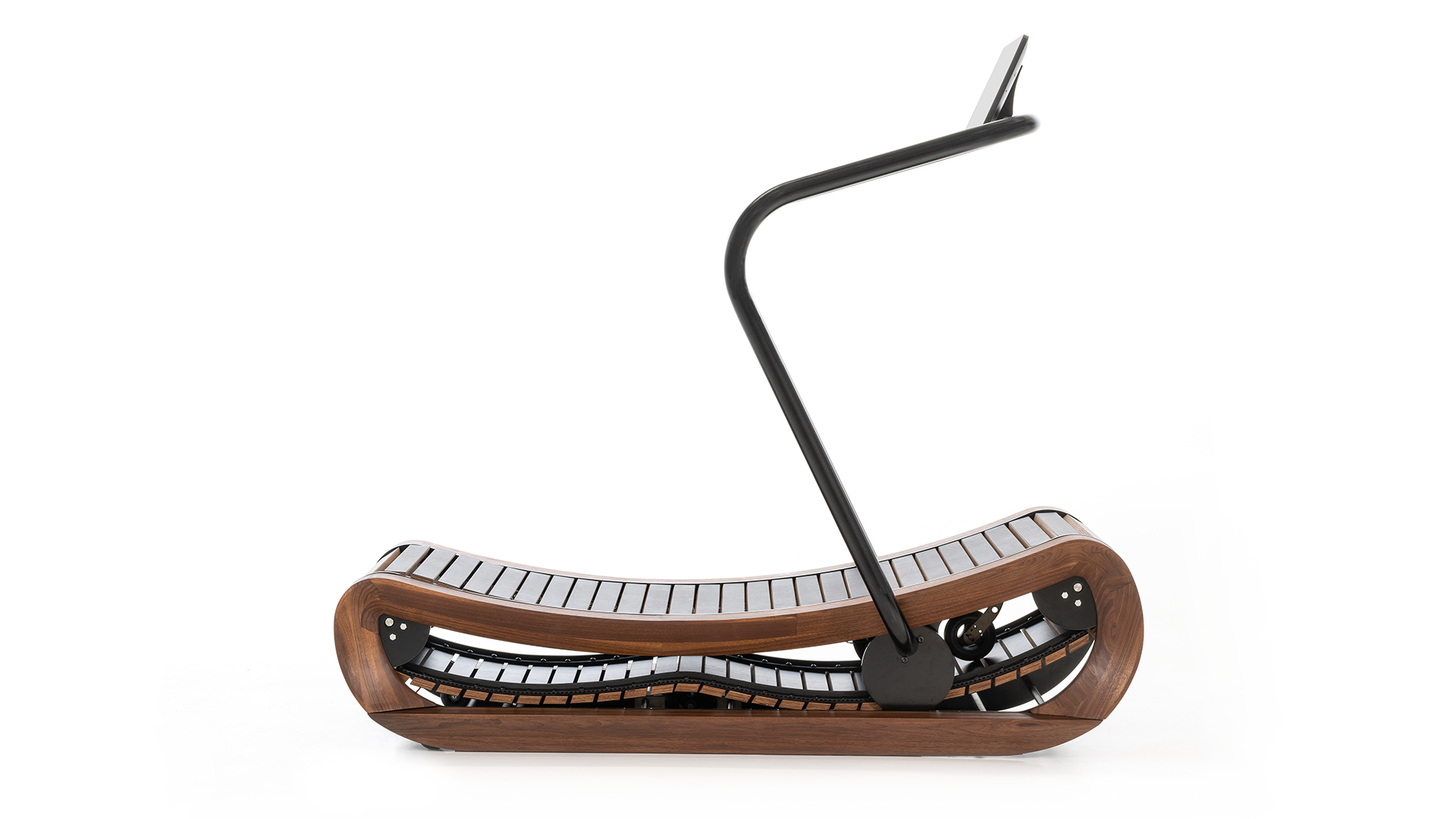 The Curved Advantage
A trend among manual treadmills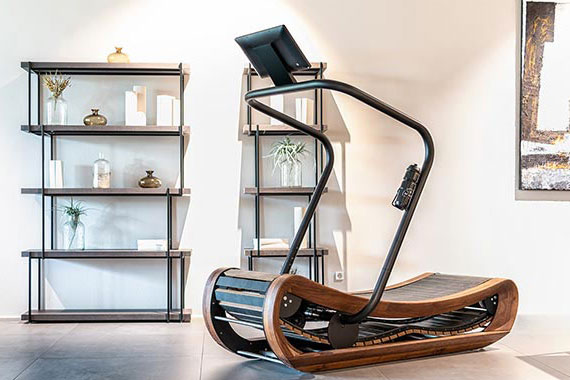 Smooth Frame / Solid Wood
The Sprintbok by NOHrD's most appealing aesthetic feature is its smoothed, curved frame design made of solid hardwood. In function, the wooden frame contributes to vibration reduction when the machine is in use.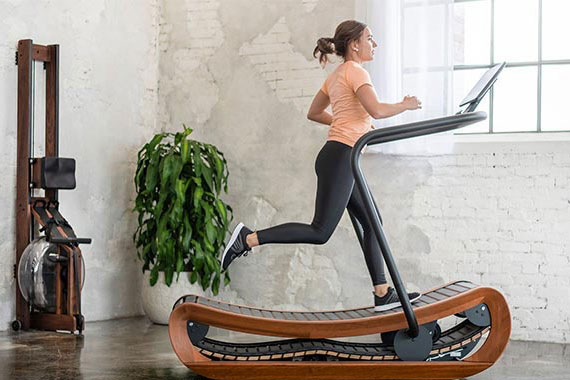 Modern Design / Curved
The SprintBok by NOHrD effortlessly incorporates today's preferred curved belt into its frame design. The incline delivers a whole range of advantages. Running feels easy and natural while proving more effective: 30% higher calorie burn!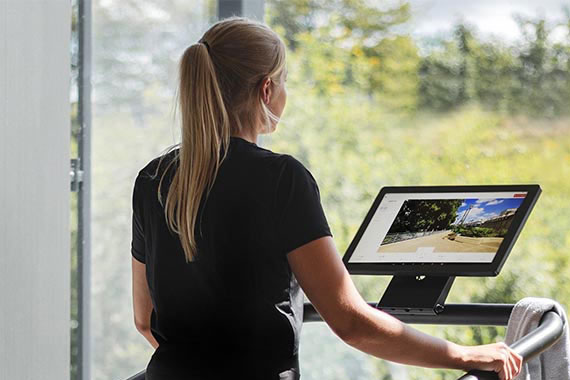 Sturdy Handlebar / Touchscreen
The Sprintbok features a sleek, sturdy handlebar with a 17,3" tablet for the new Sprintbok app. Users can track performance data during use, as well as select from a variety of pre-designed running workouts and scenery runs.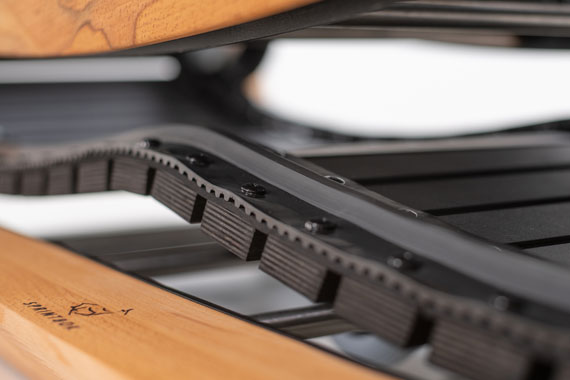 Natural Materials / Maintenance – Free
Thanks to our incorporation of highest quality materials, the Sprintbok is a maintenance-free machine. Aside from regular dusting of all surfaces, there is no belt-tightening, oiling or greasing of parts necessary.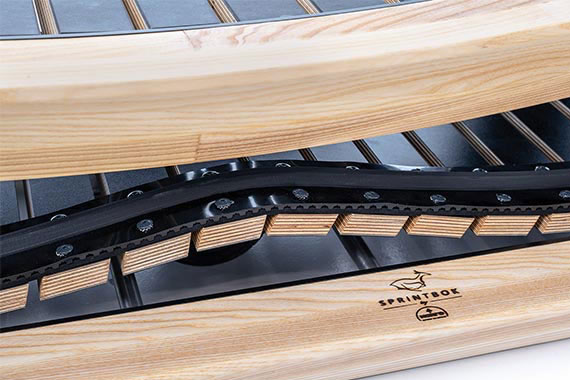 Flexi-Slat Belt / Low Impact
The Sprintbok treadmill belt consists of 62 movable wooden slats, each with a linoleum finish, chosen for its natural and durable properties. The flexi-slats are ideal for shock absorption during running training.
Intuitive Running / 100% Self-Determined'
Designed to immediately adjust to the user's strength input and running style, resulting in higher intensity, more effective running training in comparison to motorized treadmills: 30% higher calorie burn.
Technical Details
Running aficionados are familiar with the advantages of curved manual treadmills. The Sprintbok by NOHrD knows no limits: 100% powered by the strength of your own legs, you can determine all kinds of running workouts. Endurance runs, sprints or intervals – the Sprintbok absorbs any kind of running training thanks to its ball bearing slatted belt. The curved shape of the slat belt provides the manual treadmill with further advantages for a natural running experience. Depending on the body's center of gravity and position on the belt, users can vary running rhythm at any time. Compared to conventional treadmills, the Sprintbok by NOHrD's curved manual treadmill technology delivers a more intense and effective running workout with overall higher strength input.
Technical Details:
- Weight: 160 kg
- Max. user weight: 160 kg
- Running surface: 160 cm x 45 cm
- Measurements: 180 cm x 70 cm x 140 cm
- 2 rollers for easy manoevering
- Wooden frame width: 8cm
- 17.3 " tablet included
- Quiet running noise when in use thanks to vibration absorbing natural rubber
Sprintbok Training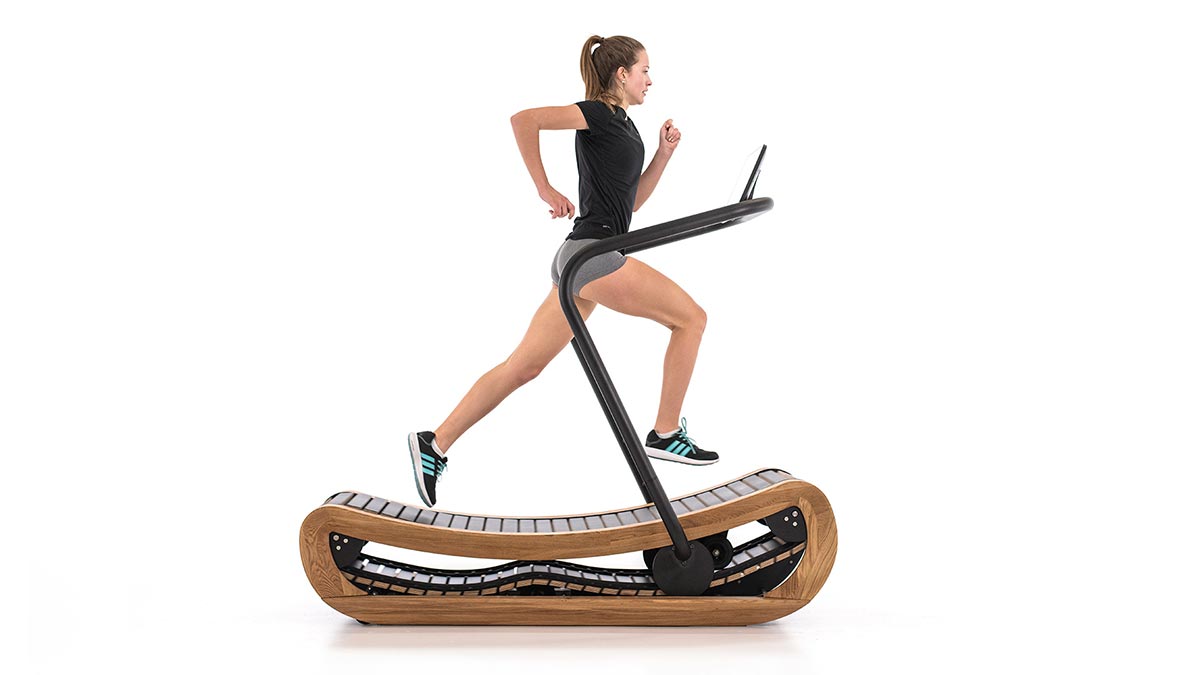 The motorless Sprintbok treadmill
Motorless
Running enthusiasts are well acquainted with the advantages of motorless treadmills. Fully powered by the user's legs, the Sprintbok knows no speed limitations. Whether training for endurance, sprint or interval runs – the Sprintbok perfectly absorbs any kind of running training through its ball bearing mounted slats.
Intense Training
The principle of the motorless Sprintbok treadmill is based on the runner's foot effectively pushing the slat belt backwards at the strike point. The curved belt surface, featuring vertical and horizontal contours, enhances the downward and backward pulling of the belt – ideal for a more natural pace.
Distance, Sprint and Interval Runs
All forms of running training can be practiced on the Sprintbok. Exceptionally quiet during use, its cushioned belt reacts instantly to any shift in your speed input. The Sprintbok automatically adapts to all running styles and speeds without any unpleasant, persistent motor noise – this enables fluid change between sprint and slower-paced running.
Walk or Run
Different speeds without settings
Once the foot strikes, the runner's bodyweight contributes to pushing the treadmill belt downwards and backwards. The foot's point of contact is always slightly in front of the body's center of gravity. The high-quality, ball bearing mounted running slats reduce horizontal friction during the strike phase. Less friction when the foot strikes, encourages more muscle engagement.


Suitable for all running workouts: endurance training, sprints & intervals. Adapts to any running style and speed.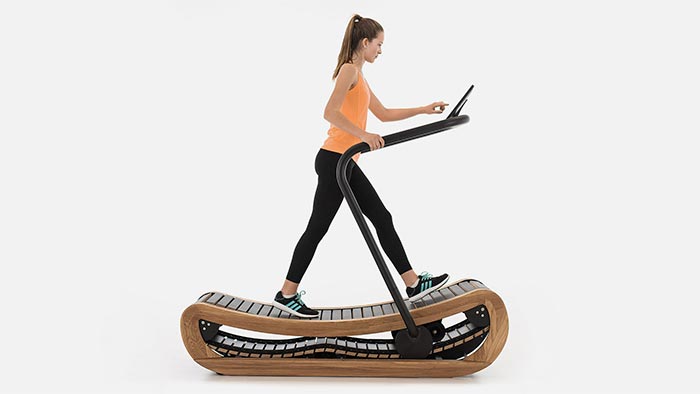 Easy, intuitive familiarization: start with a simple walk to get a feel for self-powering the treadmill. Once you find your balance at a walk pace, the transition to a comfortable jog is easy.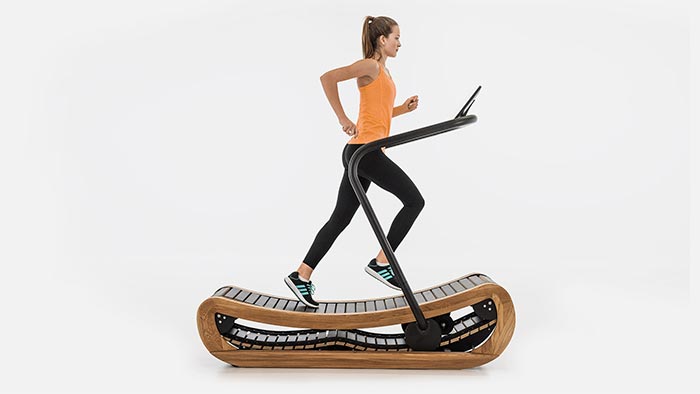 Picking up speed: shifting your body's center of gravity slightly forward, while running more forward, "into" the curve will increase the running pace.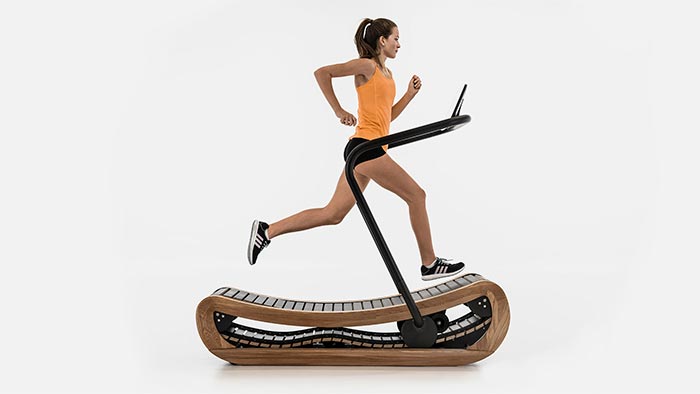 Train for speed: the Sprintbok instantly reacts to the user's speed increase. The flexible slats ensure minimal strain on the joints.
Sprintbok Monitor & App
Exercising with the Sprintbok App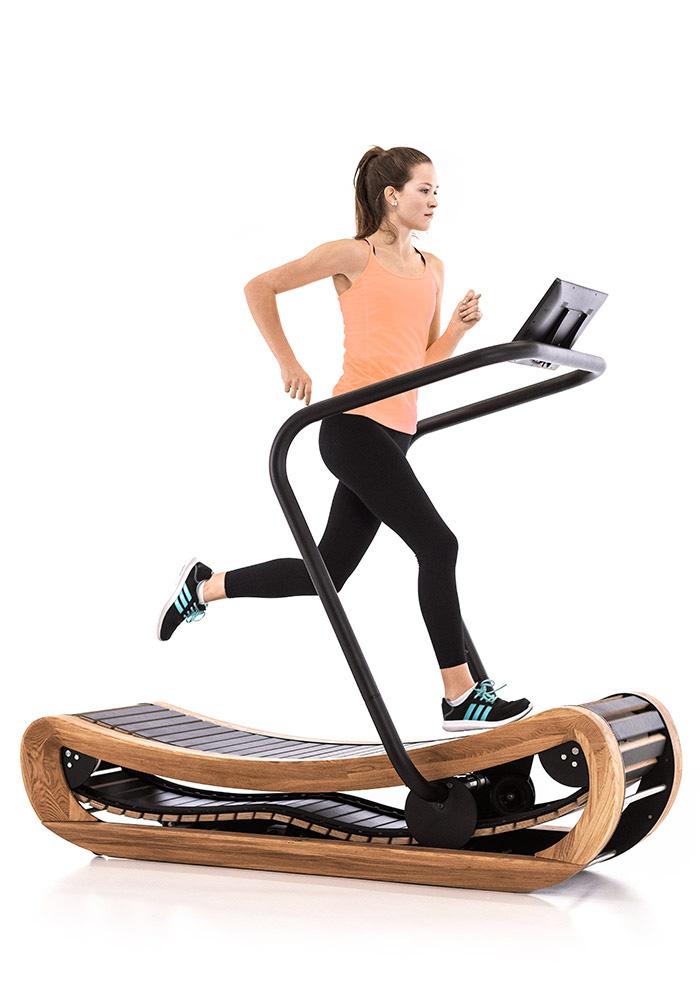 The inclinable 17.3" monitor screen is pre-installed to provide a clear overview of performance data, such as distance, time and speed on a speedometer graphic. Further workout features are available in the Sprintbok App.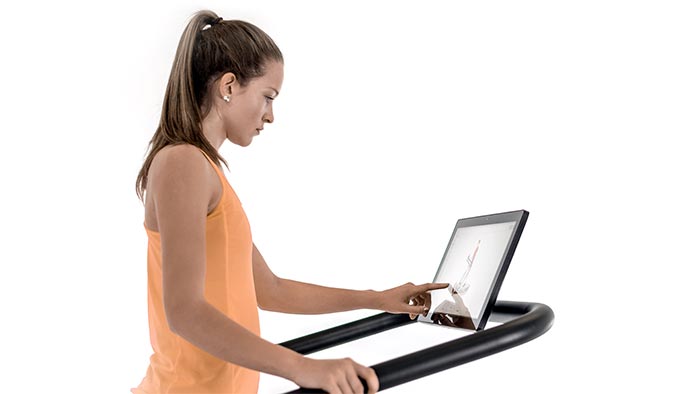 Select from various user modes in the Sprintbok App:
- Free training
- Scenery runs
- Fitness trails
In Free training mode the following performance data is displayed:
- Time
- Distance
- Speed
- Pace
- Average Speed
- Heart rate
Model Overview and Specs

Technical Details
Dimensions approx. 180 x 175 x 86 cm
Weight approx.160 kg
User Weight Max.160 kg
Packages total 1 Package
NOHrD SprintBok Curved Manual Treadmill Specification Warranty:
| | |
| --- | --- |
| Measurements: | 180 cm x 70 cm x 140 cm |
| | |
| --- | --- |
| Running surface: | 160 cm x 45 cm |
| | |
| --- | --- |
| Rollers: | 2 rollers for easy manoevering |
| | |
| --- | --- |
| Quiet running noise | When in use thanks to vibration absorbing natural rubber |