ProForm Tour De France Pro
Start burning calories while building strength on the ProForm® Tour De France Pro exercise Bike. With a digitally adjustable incline/decline range of -20 to 20%, this bike gets you prepared to cycle just about any trail. And with iFit® Coach and Google Maps™, you can ride virtually anywhere in the world and see the Street View images right on your pivotable 10" Smart HD touchscreen. You'll also get a full-body workout with the included set of 3 Lb. dumbbells.

The Best Cycling Equipment Available, Now in Your Home
A Highly Effective, Low Impact Workout
Get fit on your own time with an indoor cycle that pushes you to be your best. Change gears and feel the natural resistance of the world's hills and valleys from inside your home.
Uphill or Downhill, Let the Road Decide
Feel the hills throughout your ride. The Studio Bike Pro features a unique 20% incline to 20% decline capability that gives you the experience of a realistic, real-road feeling. As you work out with iFit® Coach and Google Maps™ Street View, this bike automatically inclines or declines to match the grade of the terrain. Make your workout more intense and burn more calories by cycling at an incline.
Silence Never Sounded So Good
Experience a smooth, frictionless, and silent ride with our patented SMR™ Silent Magnetic Resistance, which allows you to adjust your training intensity without interrupting your workout or anyone around you.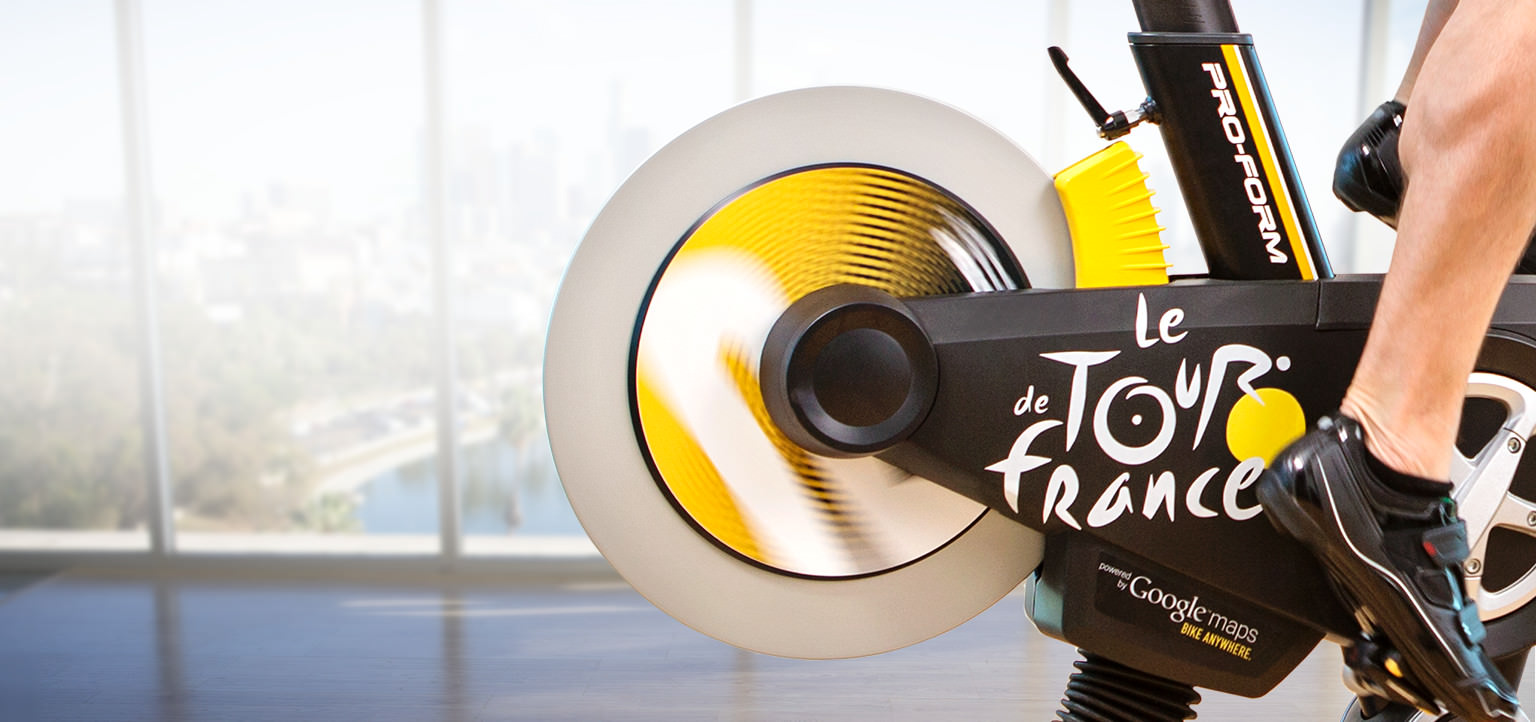 10" of Swipeable High Definition
Stay entertained and keep up on your workout stats in real time, all while you cycle. Our huge, built-in 10" Smart HD touchscreen display connects you to what you care about most.
Get the Perfect Fit
Complete Customization
Put yourself into position for the best chance at success. The Studio Bike Pro is both adjustable and modifiable for a perfectly fitted training experience. Make this bike your very own with total customizability.
Handlebars
10.5" Adjustable Stack (Vertical)
3.5" Adjustable Reach (Horizontal)
Rotation for Comfortable Upright or Aggressive Drop Position
Saddle
13" Adjustable Stack (Vertical)
4" Adjustable Reach (Horizontal)
Interchangeable
Pedals
Optional Toe Cages
Optional Clip-Ins
Interchangeable