Body-Solid BFCT1 Best Fitness Cross Trainer Elliptical
Elliptical cross training, at its best, empowers you to feel exhilarated, rejuvenated and satisfied with every workout. Unlike running or cycling, you'll feel your workout in your glutes, quads and calves rather than your knees, hips and feet, because elliptical cross training offers a cardio-efficient, non-impact motion that also involves upper body movement.
Features:
The new BFCT1 Elliptical Cross Trainer provides a non-impact cardio workout in a very compact space. The synchronized arms recruit your upper body providing a total body workout. Eight levels of smooth magnetic resistance give all users challenging workouts. The LCD console offers feedback for time, distance, speed, calories and heart rate. Transport wheels allow anyone to move the unit easily. Elliptical trainers are the hottest cardio products in the market today, and the BFCT1 is an outstanding entry level option for this category.
Dimensions: 45"L x 26"W x 66"H | 225 lb. weight capacity
Video: Play
CONSOLE: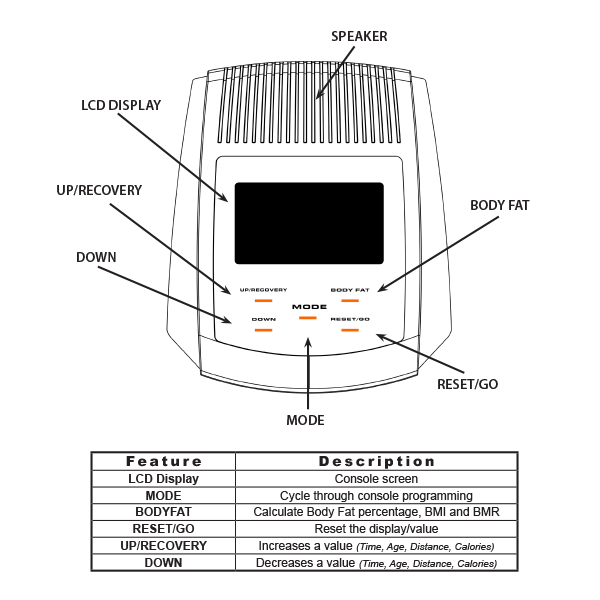 CONSOLE FEATURES:
The console informs the user with valuable information about the workout and allows the user to control workout resistance levels. Please become familiar with the console before your first exercise session. The display is able to be programmed to establish customized workout goals. The BFCT1 gives users the power to control their workout time, distance travelled and total calorie loss.
BODYFAT, BMI &BMR:
The BFCT1 console has the ability to measure a person's BODYFAT, BMI and BMR. BMI (Body Mass Index) is a statistical measurement of body weight based on a person's weight and height. Though it does not actually measure the percentage of body fat, it is used to estimate a healthy body weight and used as a diagnostic tool to identify weight problems. BMR (Basal Metabolic Rate) determines your daily calorie needs.
PULSE RATE:
The BFCT1 comes equipped with Heart Rate Contacts. The Heart Rate Contacts send your heart rate information to the console for processing. To measure Heart Rate, your hands need to firmly grasp the entire area of the Heart Rate Contact Sensors on both sides of the handlebar. There is no need to hold onto the contacts very tightly although holding onto the contacts loosely may produce a false readout.
TECH SPECS:
Technical Specifications
3'x4' footprint
106 lbs
225 lb. weight capacity
Compact and stable
Eight levels of magnetic resistance
Contact HR readout
Five panel feedback LCD display
DIMENSIONS:
Assembled Weight: 97lb / 44.00kg
Assembled Dimensions:
Length: 45.00in / 1,143.00mm
Width: 26.00in / 660.40mm
Width: 66.00in/1,676.40mm
Package Dimensions:
Length: 18.00in / 457.20mm
Width: 43.00in / 1,092.20mm
Height: 22.00in / 558.80mm
Volume: 9.85 ft3 / 0.28 m3
WARRANTY:

Warranty Agreement
This Warranty applies only in the United States to Cardio products manufactured or distributed by Best Fitness™ under the Best Fitness brand name. The warranty period to the original purchaser is:
5 years on the frame
5 years on motor (if applicable)
1 year on parts
1 year on electronics (if applicable)
3 months on wear parts (if applicable)
90 days on Labor.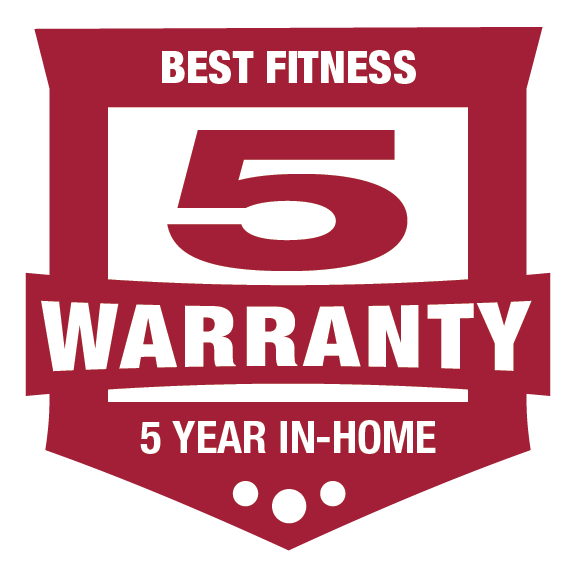 Best Fitness warrants that the Product you have purchased for non-commercial, personal, family, or household use from Best Fitness or from an authorized Best Fitness reseller is free from defects in materials or workmanship under normal use during the warranty period.
Your sales receipt, showing the date of purchase of the Product, is your proof of the date of purchase.
This warranty extends only to you, the original purchaser. It is not transferable to anyone who subsequently purchases the Product from you.
It excludes paint and finish.
This Warranty becomes VALID ONLY if the Product is assembled / installed according to the instructions / directions included with the Product.
Warranty Service
To obtain warranty service, you must return the Product to Best Fitness in its original container (or equivalent). You must pre-pay any shipping charges, export taxes, customs duties and taxes, or any other charges associated with transportation of the Product. In addition, you are responsible for insuring any Product shipped or returned. You assume the risk of loss during shipment. You must present Best Fitness with proof-of-purchase documents (including the date of purchase). Any evidence of alteration, erasing or forgery of proof-of-purchase documents will be cause to void this Warranty.
This Warranty does not extend to any Product not purchased from Best Fitness or from an authorized Best Fitness reseller. This Warranty does not extend to any Product that has been damaged or rendered defective; (a) as a result of accident, misuse, or abuse; (b) by the use of parts not manufactured or sold by Best Fitness ; (c) by modification of the Product; (d) as a result of service by anyone other than Best Fitness , or an authorized Best Fitness warranty service provider. Should any product submitted for Warranty service be found to be ineligible, an estimate of repair cost will be furnished and the repair will be made if requested by you upon Best Fitness 's receipt of payment or acceptable arrangement of payment.

EXCEPT AS EXPRESSLY SET FORTH IN THIS WARRANTY BEST FITNESS MAKES NO OTHER WARRANTIES, EXPRESSED OR IMPLIED INCLUDING ANY IMPLIED WARRANTIES OF MERCHANTABILITY AND FITNESS FOR A PARTICULAR PURPOSE. BEST FITNESS EXPRESSLY DISCLAIMS ALL WARRANTIES NOT STATED IN THIS WARRANTY. ANY IMPLIED WARRANTIES THAT MAY BE IMPOSED BY LAW ARE LIMITED TO THE TERMS OF THIS WARRANTY. NEITHER BEST FITNESS NOR ANY OF ITS AFFILIATES SHALL BE RESPONSIBLE FOR INCIDENTAL OR CONSEQUENTIAL DAMAGES. SOME STATES DO NOT ALLOW LIMITATIONS ON HOW LONG AN IMPLIED WARRANTY LASTS OR THE EXCLUSION OR LIMITATION OF INCIDENTAL OR CONSEQUENTIAL DAMAGES, SO THE ABOVE LIMITATIONS OR EXCLUSION MAY NOT APPLY TO YOU.
This Warranty gives you specific legal rights and you may also have other rights that may vary from state to state. This is the only express warranty applicable to Best Fitness branded products. Best Fitness neither assumes nor authorizes anyone to assume for it any other express warranty.
—Warranty is not applicable outside the United States— Before returning a product you must call Best Fitness at 1-800-556-3113 to obtain a Return Authorization Number. No returns will be accepted without the Return Authorization Number. Original purchaser must pre-pay all freight charges on warranty claims. Best Fitness will not accept Freight Collect shipments or return shipments on a freight collect basis.
OPTIONS

RF34B Bike Floor Mat
This Treadmat is perfect floor protection for bikes and ellipticals

STT45 Weight Plate Clock
Crunch Time! Keep track of your workout time with this Strength Training Time Clock

RF36T Treadmill Floor Mat
Treadmat is perfect for treadmills, ski exercisers or as a general aerobics mat. Super-tough, durable PVC material helps protect your floors

BSTAW Body-Solid Tools Ankle Weights
Available in two weights, 10 or 20 lb pairs. The BSTAW10 include two 5-pound ankle weights. The BSTAW20 include two 10-pound ankle weights.

BSTND Body-Solid Tools Neoprene Dumbbells
Body-Solid Tools Neoprene-Coated Dumbbells are perfect for a variety of individual and group workouts. Available in 1, 2, 3, 4, 5, 6, 7, 8, 9, 10, 12 and 15 lb. increments. Latex free.
MEDIA & DOWNLOADS:
VIDEOS
BFCT1R ASSEMBLY MANUAL
BFCT1 PRODUCT DATA SHEET
Body-Solid BFCT1 Best Fitness Cross Trainer Elliptical Specifications & Warranty:
| | |
| --- | --- |
| Eight levels of magnetic resistance | Yes |
| | |
| --- | --- |
| Five panel feedback LCD displayt: | Yes |
WARRANTY
This Warranty applies only in the United States to Cardio products manufactured or distributed by Best Fitness™ under the Best Fitness brand name. The warranty period to the original purchaser is:
| | |
| --- | --- |
| Motor (if applicable) | 5 Years |
| | |
| --- | --- |
| Electronics (if applicable) | 1 Year |
| | |
| --- | --- |
| Wear Parts (if applicable) | 3 Months |
Body-Solid BFCT1 Best Fitness Cross Trainer Elliptical

I love this elliptical. It was easy to assemble, I did it by myself. The only reason I didn't give 5 stars is because it does squeak now. I'm not able to do much since it's coming from inside the base that came pre assembled. Other than that it's great. Easy to use, a lot of settings, and the protective mat is a plus to protect the flooring. I will definitely go through this company for my future purchases. The customer service is top tier as I received email replies quickly and even got phone calls from the agent that was assisting me.