Body-Solid Best Fitness BFE2 Elliptical
Elliptical cross training, at its best, empowers you to feel exhilarated, rejuvenated and satisfied with every workout. Unlike running or cycling, you'll feel your workout in your glutes, quads and calves rather than your knees, hips and feet, because elliptical cross training offers a cardio-efficient, non-impact motion that also involves upper body movement.
FEATURES
The Best Fitness BFE2 Center Drive Elliptical Trainer is a standout elliptical trainer that blends technology and quality at an affordable price.

Patented technology on the BFE2 provides a comfortable and effective upper and lower body workout in an extremely compact space. The BFE2 is designed with a low center of gravity and balanced frame construction to eliminate rocking and provide smooth workouts.

A bright 5" color digital display includes quick and easy readouts of Time, Speed, RPM, Distance, Calories Burned, Pulse, Load, Watt, Temperature, Calendar, and Clock. The BFE2 also features a Training Mode giving users several exercise options that allow for a complete and custom workout. For those looking for tailored workouts, the BFE2 features 12 different preset program profiles to choose from with workouts specifically designed to fit user's goals and fitness levels.
CONSOLE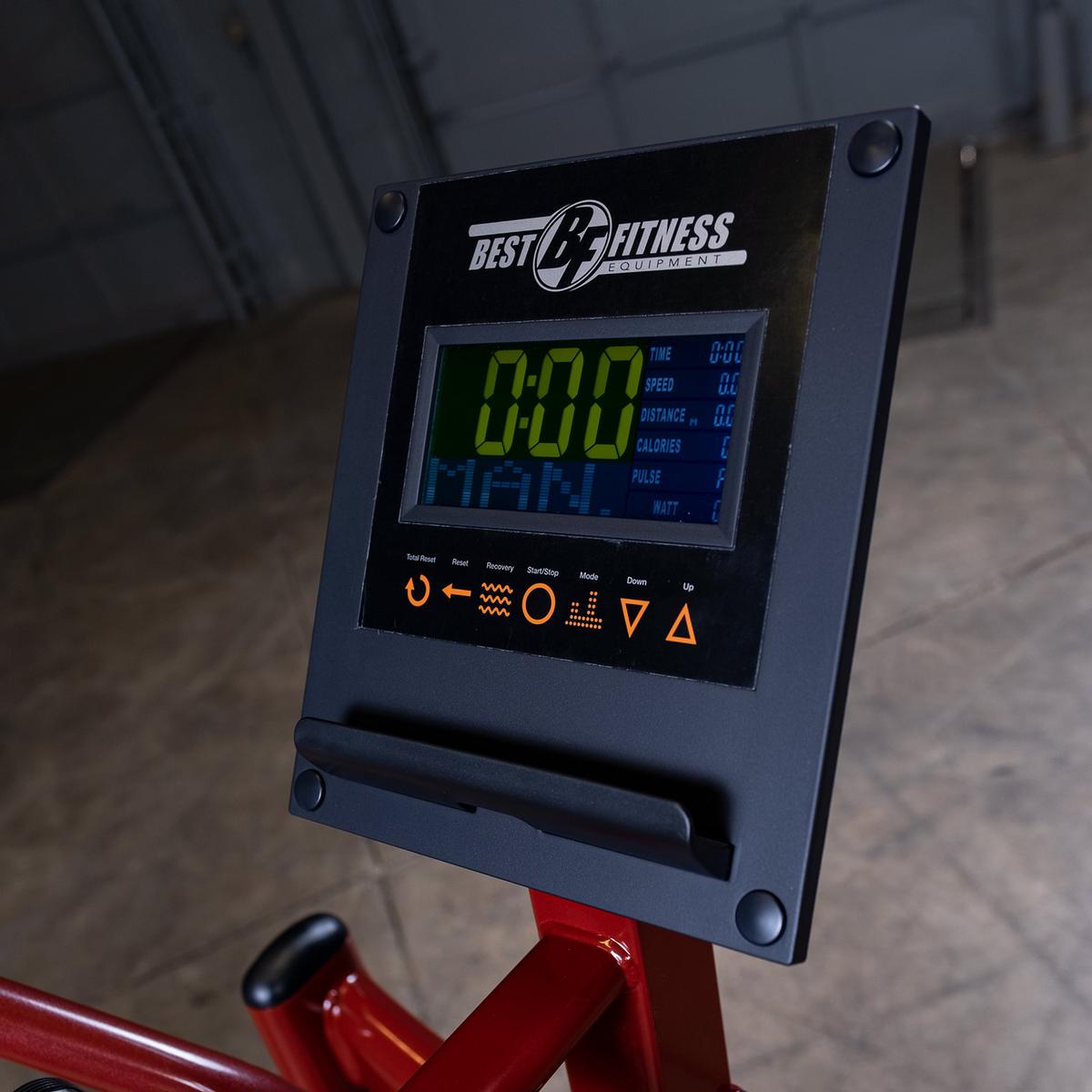 DISPLAY
The BFE2 features a 5" Color Digital display. The display offers quick and easy readout of Time, Speed, RPM, Distance, Calories Burned, ulse, Load, Watt, Temoerature, Calender and Clock.

TRAINING MODES
Training Mode gives the user several exercise options that allow for a complete and custom workout. There are five Training Modes which include Manual Mode, Program Mode, User Mode, and Watt Mode.

PROGRAM PROFILES
There are 12 different preset program profiles to choose from.
TECH SPECS
Patented Center Drive design
Compact and portable
Low center of gravity and balanced frame prevents rocking
Dual-action upper and lower body
Easy step-up height
Contact heart rate
Close pedal spacing eliminates hip fatigue
5" Color Digital Display
Custom Training Modes & Program Profiles
Weight Capacity: 275 lbs.
Dimensions: 48"L x 30"W x 66"H
Best Fitness In-Home Warranty
DIMENSIONS
Assembled Weight: 182lb / 82.56kg
Assembled Dimensions:
Length: 48.00in / 1,219.20mm
Width: 30.00in / 762.00mm
Height: 66.00in/1,676.40mm
WARRANTY: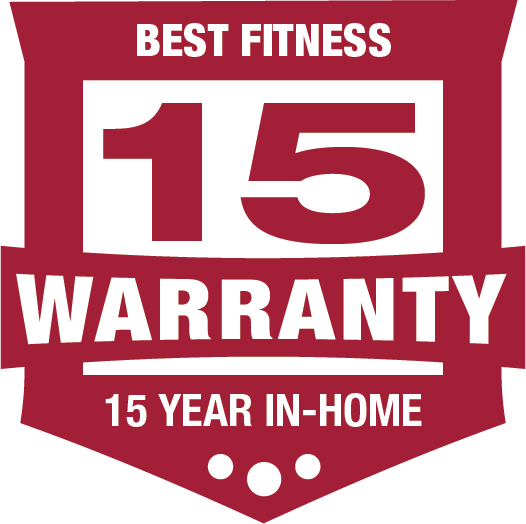 BEST FITNESS 15 YEAR WARRANTY
Warranty Agreement
This Warranty applies only in the United States to products manufactured or distributed by Best Fitness™ under the Best Fitness brand name. The warranty period for the original purchaser is:


15 Years on the Frame
10 Years on motor (if applicable)
2 Years on electronics (if applicable)
2 Years on Parts
6 Months on wear parts (if applicable)
1 Year on labor
Best Fitness warrants that the Product you have purchased for non-commercial, personal, family, or household use from Best Fitness or from an authorized Best Fitness reseller is free from defects in materials or workmanship under normal use during the warranty period.
Your sales receipt, showing the date of purchase of the Product, is your proof of the date of purchase.
This warranty extends only to you, the original purchaser. It is not transferable to anyone who subsequently purchases the Product from you.
It excludes paint and finish.
This Warranty becomes VALID ONLY if the Product is assembled / installed according to the instructions / directions included with the Product.
Warranty Service
To obtain warranty service, you must return the Product to Best Fitness in its original container (or equivalent). You must pre-pay any shipping charges, export taxes, customs duties and taxes, or any other charges associated with transportation of the Product. In addition, you are responsible for insuring any Product shipped or returned. You assume the risk of loss during shipment. You must present Best Fitness with proof-of-purchase documents (including the date of purchase). Any evidence of alteration, erasing or forgery of proof-of-purchase documents will be cause to void this Warranty.
This Warranty does not extend to any Product not purchased from Best Fitness or from an authorized Best Fitness reseller. This Warranty does not extend to any Product that has been damaged or rendered defective; (a) as a result of accident, misuse, or abuse; (b) by the use of parts not manufactured or sold by Best Fitness ; (c) by modification of the Product; (d) as a result of service by anyone other than Best Fitness , or an authorized Best Fitness warranty service provider. Should any product submitted for Warranty service be found to be ineligible, an estimate of repair cost will be furnished and the repair will be made if requested by you upon Best Fitness 's receipt of payment or acceptable arrangement of payment.

EXCEPT AS EXPRESSLY SET FORTH IN THIS WARRANTY BEST FITNESS MAKES NO OTHER WARRANTIES, EXPRESSED OR IMPLIED INCLUDING ANY IMPLIED WARRANTIES OF MERCHANTABILITY AND FITNESS FOR A PARTICULAR PURPOSE. BEST FITNESS EXPRESSLY DISCLAIMS ALL WARRANTIES NOT STATED IN THIS WARRANTY. ANY IMPLIED WARRANTIES THAT MAY BE IMPOSED BY LAW ARE LIMITED TO THE TERMS OF THIS WARRANTY. NEITHER BEST FITNESS NOR ANY OF ITS AFFILIATES SHALL BE RESPONSIBLE FOR INCIDENTAL OR CONSEQUENTIAL DAMAGES. SOME STATES DO NOT ALLOW LIMITATIONS ON HOW LONG AN IMPLIED WARRANTY LASTS OR THE EXCLUSION OR LIMITATION OF INCIDENTAL OR CONSEQUENTIAL DAMAGES, SO THE ABOVE LIMITATIONS OR EXCLUSION MAY NOT APPLY TO YOU.
This Warranty gives you specific legal rights and you may also have other rights that may vary from state to state. This is the only express warranty applicable to Best Fitness branded products. Best Fitness neither assumes nor authorizes anyone to assume for it any other express warranty.
—Warranty is not applicable outside the United States— Before returning a product you must call Best Fitness at 1-800-556-3113 to obtain a Return Authorization Number. No returns will be accepted without the Return Authorization Number. Original purchaser must pre-pay all freight charges on warranty claims. Best Fitness will not accept Freight Collect shipments or return shipments on a freight collect basis.

OPTIONS

RF34B Bike Floor Mat
This Treadmat is perfect floor protection for bikes and ellipticals

RF36T Treadmill Floor Mat
Treadmat is perfect for treadmills, ski exercisers or as a general aerobics mat. Super-tough, durable PVC material helps protect your floors

BSTAW Body-Solid Tools Ankle Weights
Available in two weights, 10 or 20 lb pairs. The BSTAW10 include two 5-pound ankle weights. The BSTAW20 include two 10-pound ankle weights.

BSTWVP Body-Solid Tools Body-Solid Premium Weighted Vests
Premium fabrics guarantee a comfortable fit while the sandbag weights provide a flexible weight option that perfectly conforms to your body.
Available in 20lb. or 40 lb. configuration.

STT45 Weight Plate Clock
Crunch Time! Keep track of your workout time with this Strength Training Time Clock
MEDIA & DOWNLOADS
VIDEOS
BFE2 ASSEMBLY MANUAL
BFE2 PRODUCT DATA SHEET
Body-Solid Best Fitness BFE2 Elliptical Specifications & Warranty:
| | |
| --- | --- |
| Weight Capacity: | 275 lbs. |
| | |
| --- | --- |
| Dimensions | 48"L x 30"W x 66"H |
| | |
| --- | --- |
| Best Fitness In | Home Warranty |
WARRANTY
This Warranty applies only in the United States to products manufactured or distributed by Best Fitness™ under the Best Fitness brand name. The warranty period to the original purchaser is:
| | |
| --- | --- |
| Motor (if applicable) | 10 Years |
| | |
| --- | --- |
| Electronics (if applicable) | 2 Years |
| | |
| --- | --- |
| Months on wear parts (if applicable) | 6 Months |